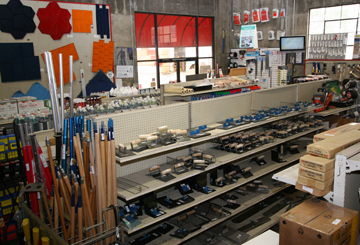 Westside Concrete Building Materials
Your One Stop Shop
We are pleased to partner with Westside Concrete Materials to provide you easy access to critical supplies you or your contractor may need for your concrete placement. With five convenient stores in the Bay Area, Westside Concrete Materials offers more than 3000 products for the concrete contractor, as well as the homeowner.
Highlights:
Building material supplies, tools and accessories are available at three convenient locations.
Product seminars and "how to" classes are offered at various locations year round.
Westside's knowledgeable staff is available at all locations to answer your questions and provide solutions to all your project needs.
Westside Concrete Materials provides delivery service to your jobsite.
Contact Information
Westside Concrete Materials
Bob Matthews
Sales
408.404.2300
Dave Heil
Operations Manager
408.404.2005
Products offerings include:
Rebar – Wire Mesh – Steel Stakes

Dimensional Lumber – Plywood

Wood Stakes – Form Panels

Color – Hardener – Release – Stain

Stamp Rental Program

Sealers – Cures

ADA Truncated Domes

Simpson Strong Tie Distributor

Power Tools – Finishing Tools

Water Proofing & Vapor Barriers

Void Styrofoam – Expansion Joints

Concrete Restoration Products

Hardware Rentals

Safety Supplies

Bulk Rock and Sand