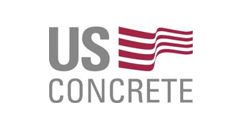 Our Parent Company
We are proud to be a business unit of U.S. Concrete (NASDAQ:USCR). U.S. Concrete is recognized for staying ahead of the construction market with leading sustainable and innovative ready-mixed concrete and aggregate solutions. To achieve these goals, U.S. Concrete has an unwavering commitment to safety, research, technical excellence, and accountability with all of its customers.
U.S. Concrete's ready-mixed and aggregate operations serve multiple markets in the United States as individually branded business units. This successful business model allows Central Concrete to operate as a local entrepreneurship, so critical for today's fast moving markets. This region-centric approach allows Central Concrete to take full advantage of our long-established reputations, extensive knowledge of the San Francisco Bay area, and deep customer relationships. U.S. Concrete acts as a catalyst to help us reach our full potential by providing strong leadership and strategic direction, essential centralized resources, robust research and development capabilities, and the financial resources necessary to support and grow our business.
To learn more about our parent company, we invite you to visit www.us-concrete.com.